In the Polynesian mythology Hiro was the God of thieves, a trickster 
It is said that this God had a child with a woman from Raiatea.  Or perhaps I should say that there was a woman from Raiatea who gave birth to a giant.  
A nepheline as some might call and they called him Hiro. When he grew up his personality and behavior resembled his father, the God Hiro. 
When we make jokes, when we make fun of each other, play tricks on each other when we want to make a profit out of something, and even when we get angry, we reflect some of the qualities or trades of the mythological God Hiro. 
The legends about him are countless and they very from island to island.    
This nepheline was a trickster and considered a thief! A thief like Robin Hood you might ask?  No, he is more like an Ewa bird.  A frigate bird.  
Did you know that our beloved Ewa birds, inspiration for many famous Hula Kahiko dances and songs/mele, they survive that way,  By stealing fresh fish caught by smaller birds near by, taken right out of their beaks, in mid air.   
Ewa birds can't float in the ocean waters, they can't dive for fish and get their feathers wet otherwise they will sink!  All their work is done up in the skies. They watch, they wait, they calculate  and then they act.   Ta'aroa ( creator god ) did not bless the Ewa bird with water proof feathers like he did with other ocean birds so the Ewa, had to do what it could, to stay alive.  
Do we think Ewa birds are bad birds?  No they are not. They are just different.  
They had to adapt to survive.  
Taha'a or Taha'ha shares lagoons with Raiatea.  We did not have to go out to the rough sea, to get to our next destination. It was windy, cold and  raining, then it poured,  The trip to Taha'a from Raiatea was short and we had the canopy over the stern to avoid getting drenched. Still very wet we decided to play music.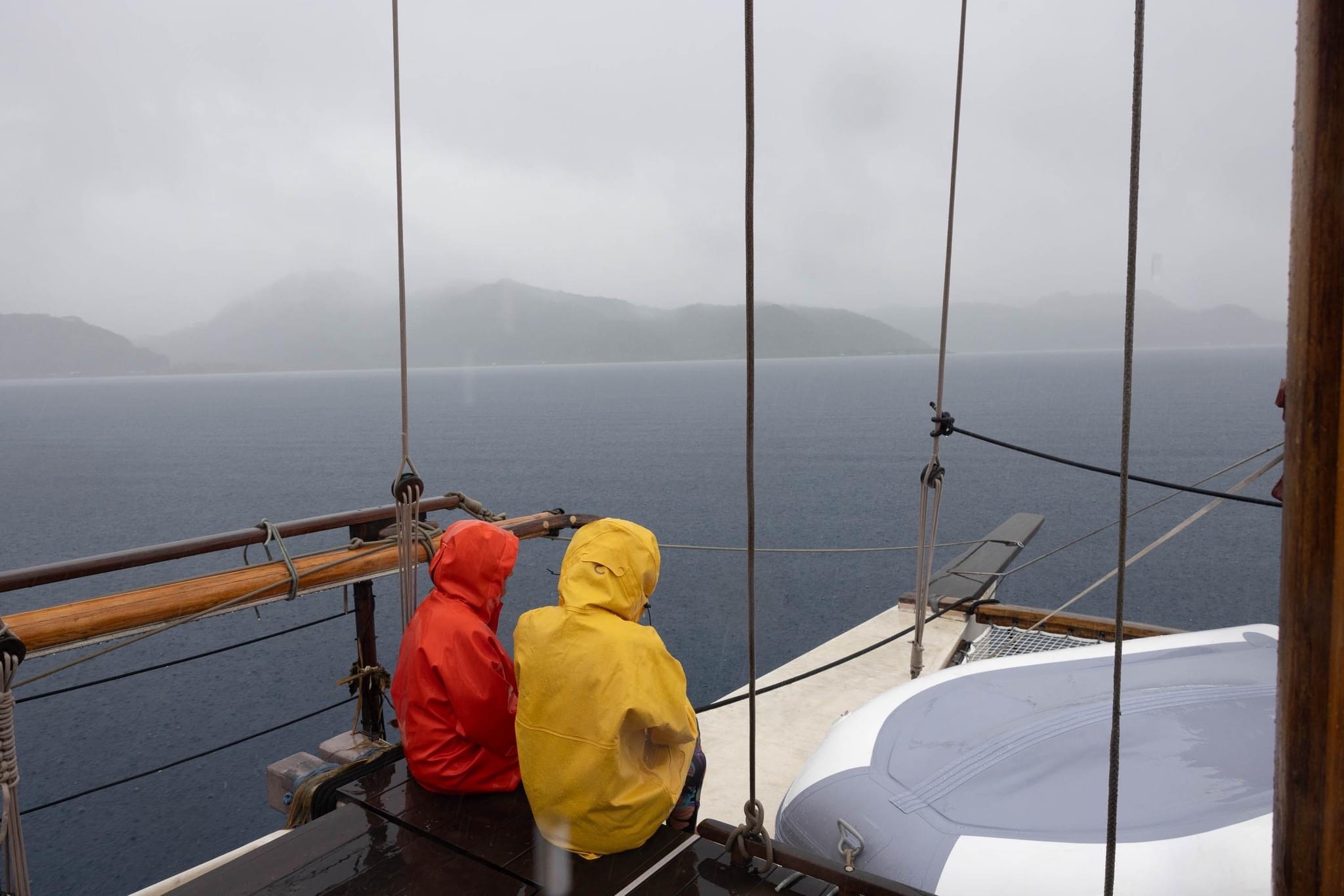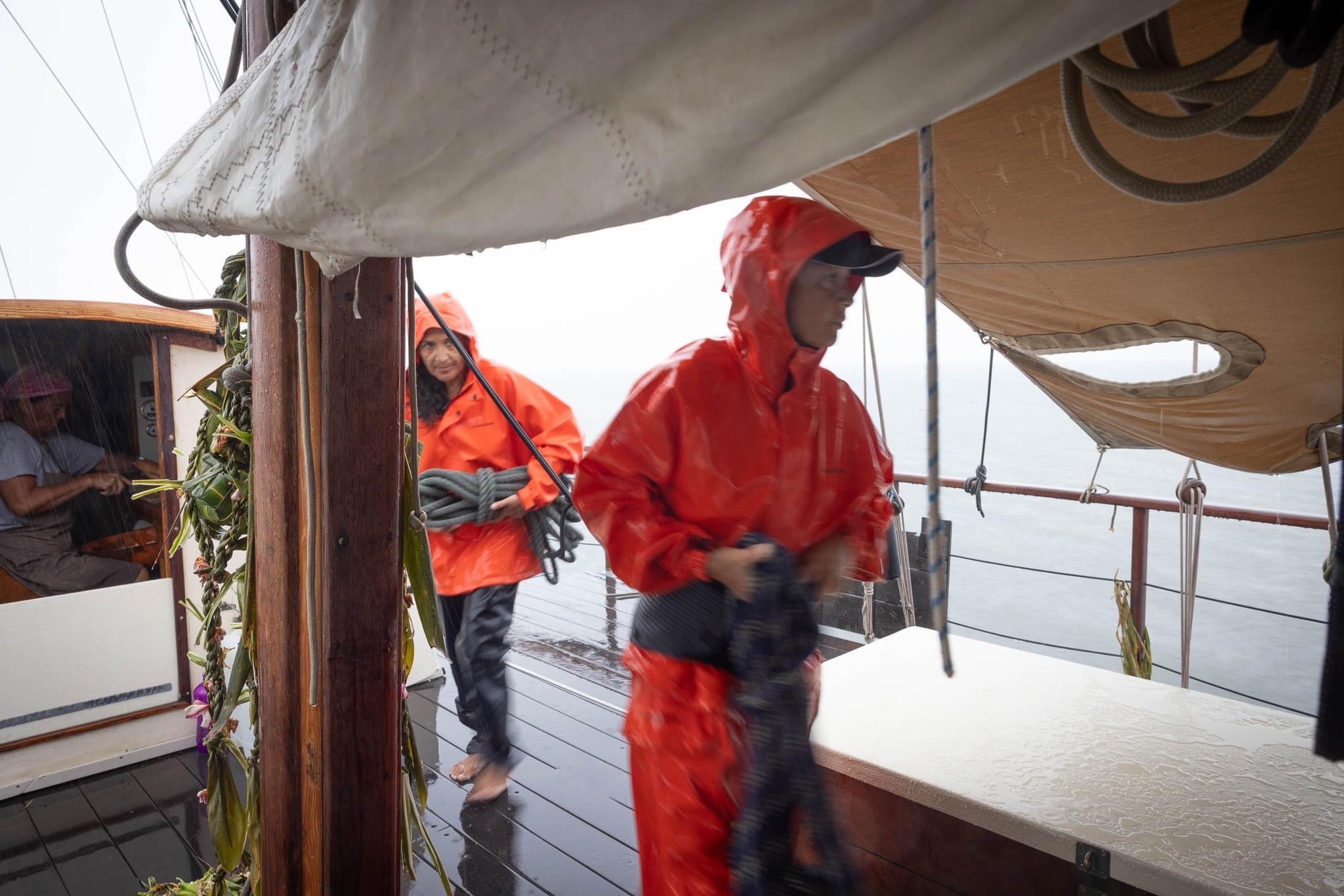 Our guest Sunny and Assaiah pulled out their ukuleles and sang all the way to Taha'a, Patricia join them with the cajon and all of the sudden we had a small jam session on the Wa'a under the pouring rain. The crew was singing and dancing, we were all very happy. Unforgettable.  Fun. 
One of Taha'a highlights is their buffet with fire dancers, which we went to right after we moored the Wa'a. At this amazing dinner buffet we met the first children who truly inspired this blog and added some extra dynamics and spice to our adventure.  The children of Hiro, his decendents are still very alive.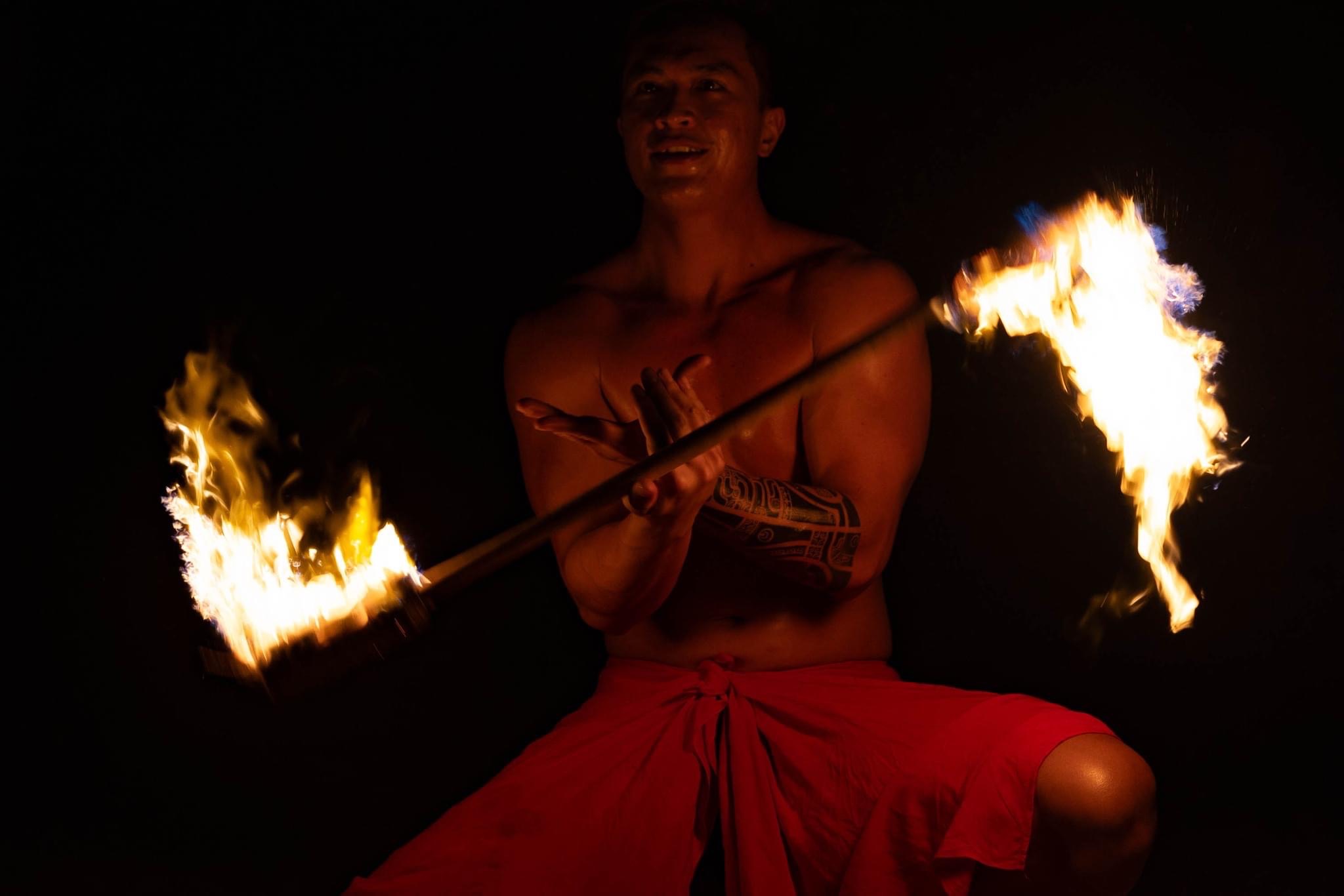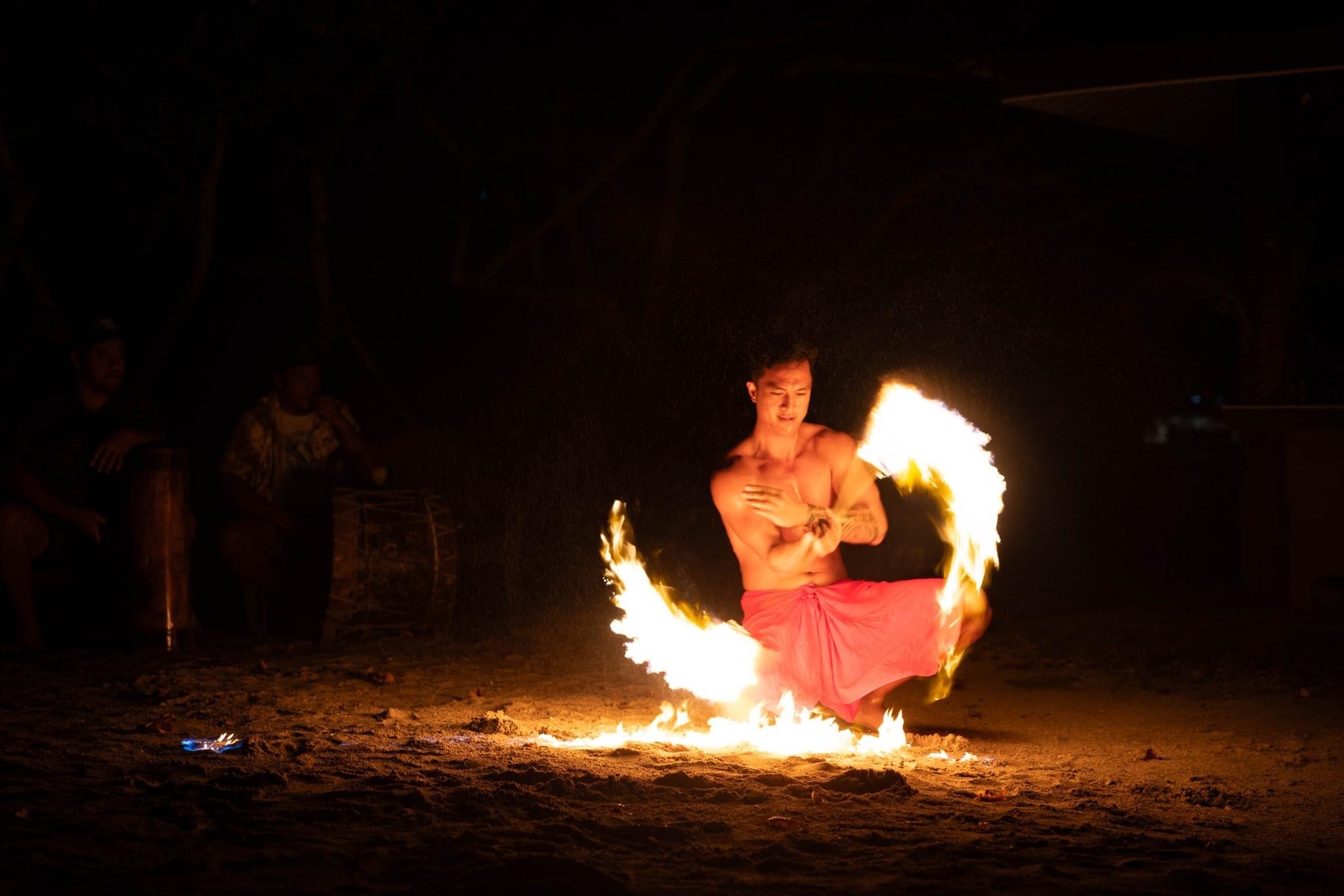 If you go to Taha'a you must go to this buffet and enjoy the live music, Tahitian dancers and fire dancers. It was fun to listen to the animated host of the buffet and meet his beautiful family. The food was insane, almost as good as Tania's… ha ha ha!!   
Toeres and Pahu/drums started to take over the large room and three lovely dancers started their performance. One of the dancers is only ten years old and it was her first official night dancing with her family for the guests of the buffet.  
EH MAURUURU!!!  She called out loud after finishing every dance.  
Mauruuru means Thank You 
She was fabulous, the ladies and gentleman were fabulous and her little sister who we met at the dance floor after the show was over was, well, she was very naughty. She has the spirit of a trickster and made fun ( in a cute way ) of a few  random buffet guests on the dance floor.  She managed to steal the attention of the people from her sister, momentarily.  I do not doubt that when I return to Taha'a she'll also be dancing in the show. 
I got to dance with her for a little bit, it felt like a dance off!!  My knees, my poor old knees were scratched for a few days after doing the splits on the sandy dance floor.    Why did I do that? Because she did it first and the trickster in me had to have fun with this naughty little 7 year old girl.  
She didn't think this old body could still dance 
The island vibes felt upbeat and fast paced. Not in a modern way. No, the island is very simple and all towns are very small, but fun.  The people were polite and fun. They were observant and outspoken. The children we met during our visit were confident and had their own individual opinions.    
The day after the buffet we visited a pearl farm. The clean waters and strong currents of Taha'a make the island a great location for farming the popular Tahitian black pearls.  We got a wonderful explanation on how pearls are farmed, we learned about the entire process. From bringing the nucleus of the pearl from the Mississippi river ( yes you heard right ) to the placing of this nucleus inside the oyster and how to obtain pearls of different shapes and colors.  Fascinating.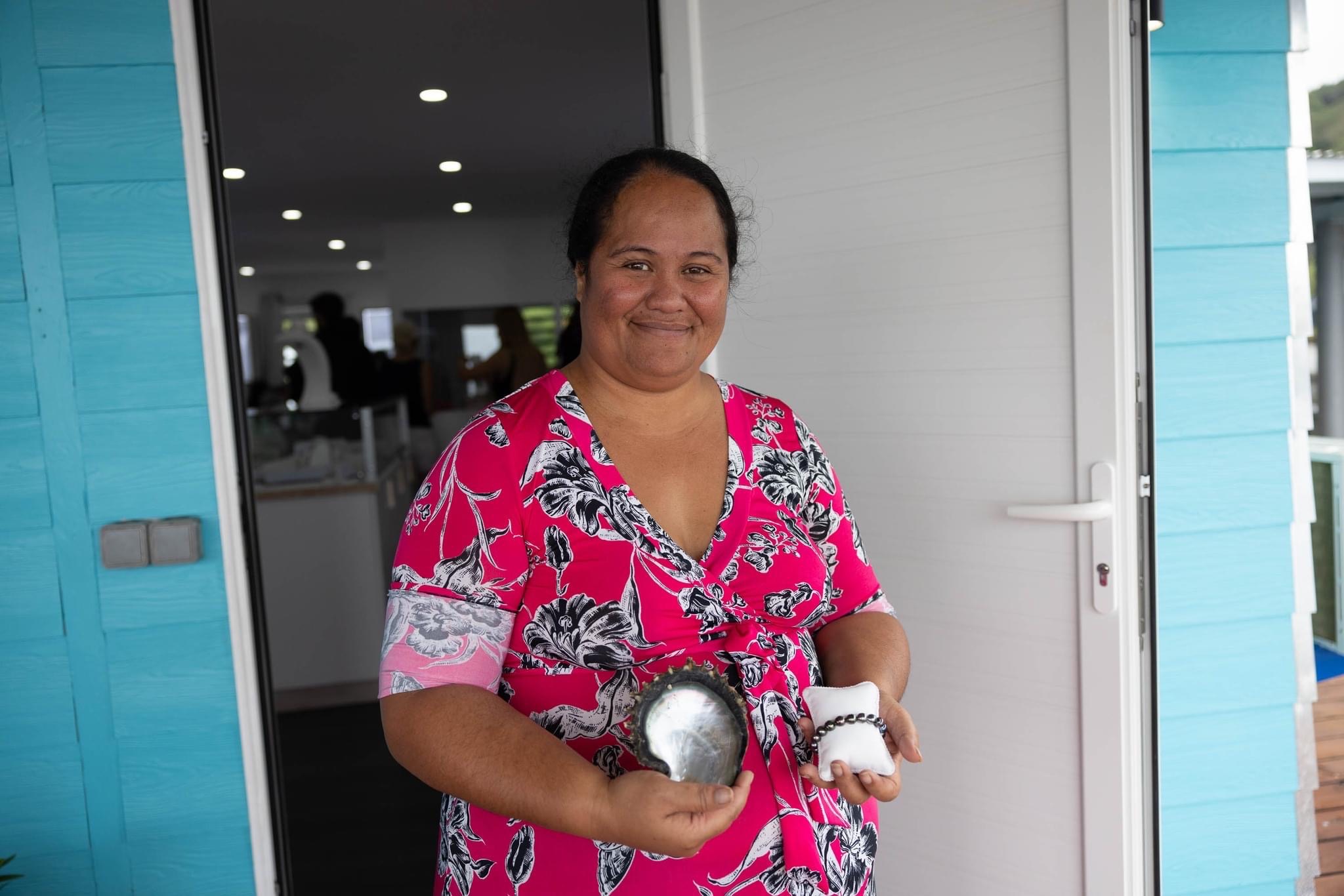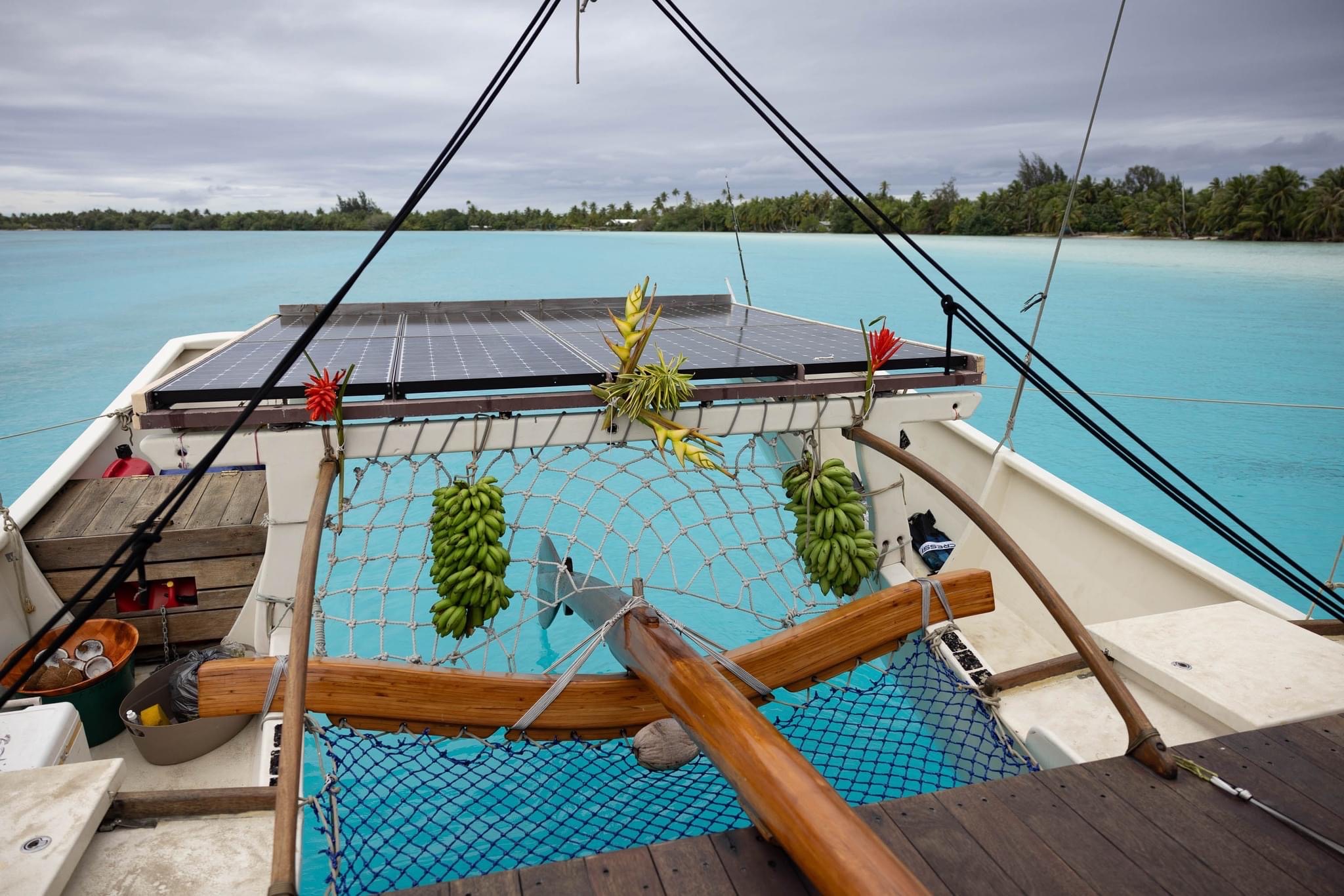 The rain was light but the winds were strong, it was a bit cold and cloudy. We were a bit tired from the  buffet and all the dancing from the previous night and decided not to go for a snorkel. Instead we went to shore on the zodiac to explore, and watch for the sunset.  We stopped at a small store to get snacks for the walk and as Aura was cashing out her goods at the register the lady who was helping her looked at her and asked her, hey are you on board Faa'faite? Aura said, yes, how did you know!! The nice lady pulled her smart phone and showed Aura a picture of herself taken by Danee Hazama while in Huahine.  Wow!!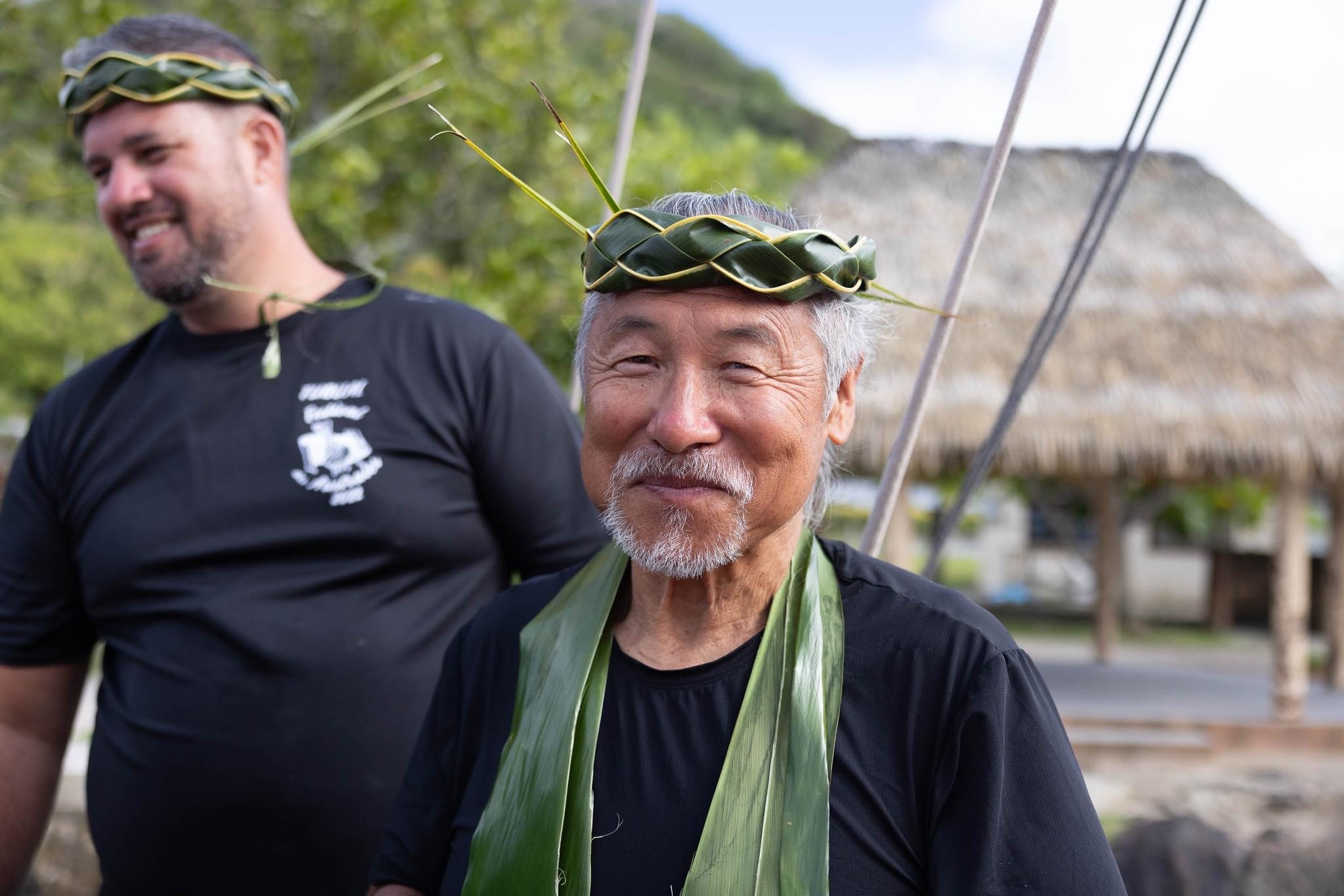 This is Danee
Faa'aite is a shining star in the entire Society Islands and it showed! 
We felt like superstars. Lol.   
Selket wanted to fly her drone on land so we went scouting for a good place to launch at sunset.  We settled for a small bay close to where the Wa'a was anchored. A short 15 minute walk.  It was  a point full of tall coconut tress and hermit crabs.  There was people snorkeling with manta rays right in front of us.  Maybe if I hadn't had four Mai Tai's and done the splits the night before I could have attempted that manta snorkel session but no.  The sunset was just fine. For all of us. 
Titaua our captain  had join us on land but had stayed behind fetching fruit for the Wa'a.  He showed up with a box full of papayas and four teenagers. Three girls and one boy, the young man was over 6.5!  Look at him!!  Clearly a direct descendant of Hiro, who was a giant.   The kid is only 12 years old.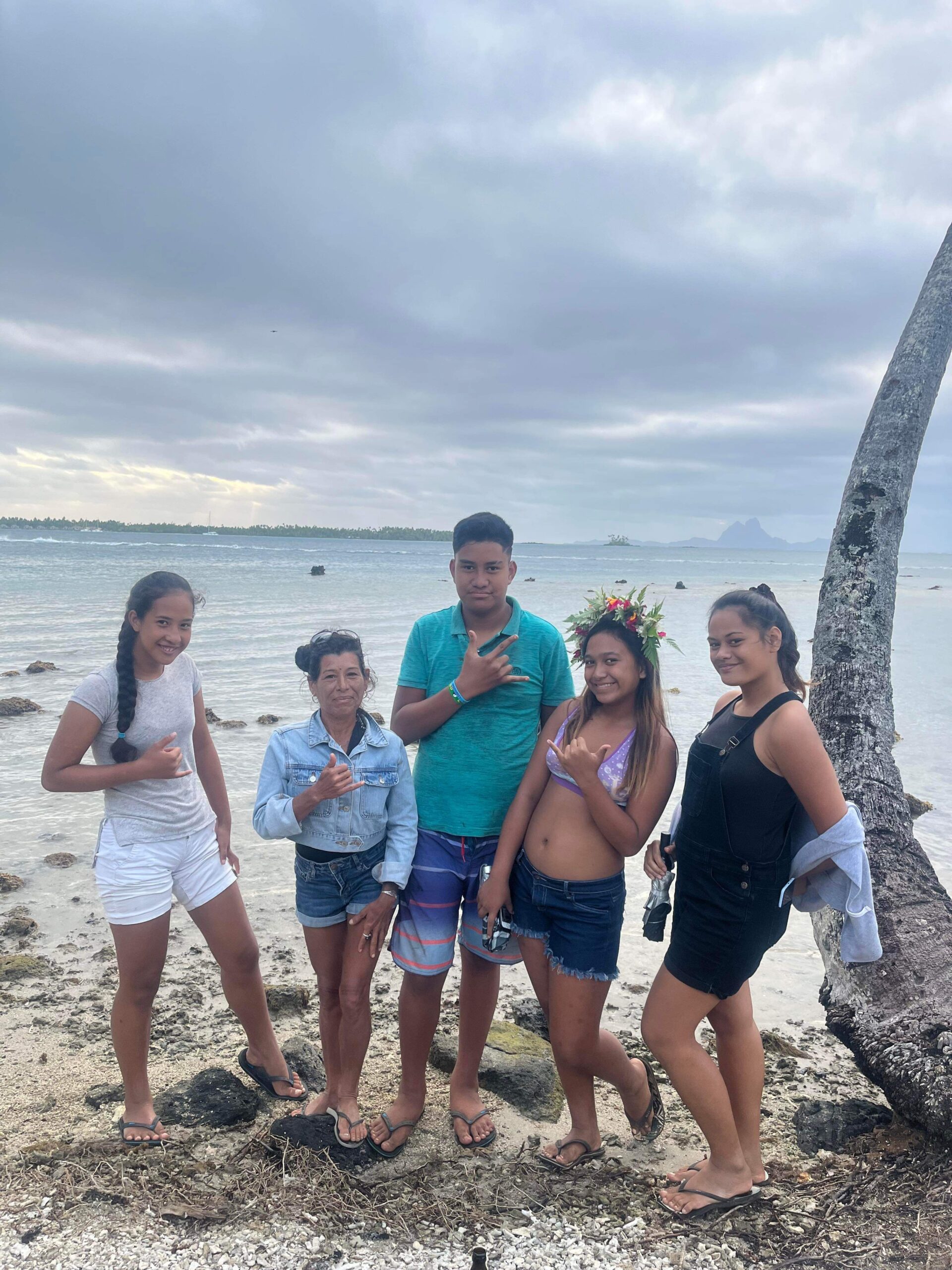 Titaua introduced us to the youth and told us that on his walk back he met the kids and after asking them their names and surnames they realized that he was  blood related to one of them.  Titaua shared an ancestor with one of the teen girls and they were meeting for the first time. Titaua even pulled up an old photo of the tupuna ( elderly relative ) from his phone to show us the resemblance between this young lady and their ancestor. 
The kids were fascinated by Selkets drone and rushed towards her when she was landing the drone near the ocean edge.  They even got to keep some of the drone's old helixes that were damaged after a rough landing against the Wa'a sails. 
They loved that gift so much. They each got a piece. 
We asked the older girls what they thought about tourism in Taha'a. 
The younger one said that she enjoyed it very much so. Meeting new people and practicing her English was good.  When we asked the older girl, she replied. I like it when they come and visit but I don't like it when they move here. 
In other words, you are welcome to visit but you must go back home. 
Two complete different outlooks on the reality of Taha'a and Tahiti. Recently theres been an increase in new residents coming to the islands from France, the USA and Europe  How does this influence the lives of the community and the youth of the islands?
Excellent topic for a whole new long blog. Not today tho.  Soon. 
We said goodby to the teens and headed back to the Wa'a.  For dinner we had whole Akule ( small fish ) . It was special for me because I think this fish is very tasty. This fish swims in large schools, It represents abundance. 
I see Akule often when I'm out at sea kayaking on Maui looking for humpback whale singers to record.  The Akule are an indicator that a whale or a pod of whales is near by.  You see, the Akule likes to hang out with the whales because it likes to eat the tiny pieces of skin falling from the whales bodies while in warm mating grounds.  It just happens naturally and when the whales breach, oh boy what a feast for the fish.  
Meeting those amazing children, full of confidence and determination gave me hope. It inspired me.  A lot of times the children know better because their hearts are pure. We should listen to them more often. 
The sun peeked out early the next morning and we started making our way inside the lagoon, slowly heading to the pass that would take us straight to our last island destination Bora Bora.   Sadly it was time to say goodby to Matahi, who had to go back to work in Raiatea.  It was sad to see him go, his chilled personality and sailing knowledge were definitely missed.  Danee had left us in Raiatea for urgent work so the Wa'a felt a bit empty.  They were both missed very much so.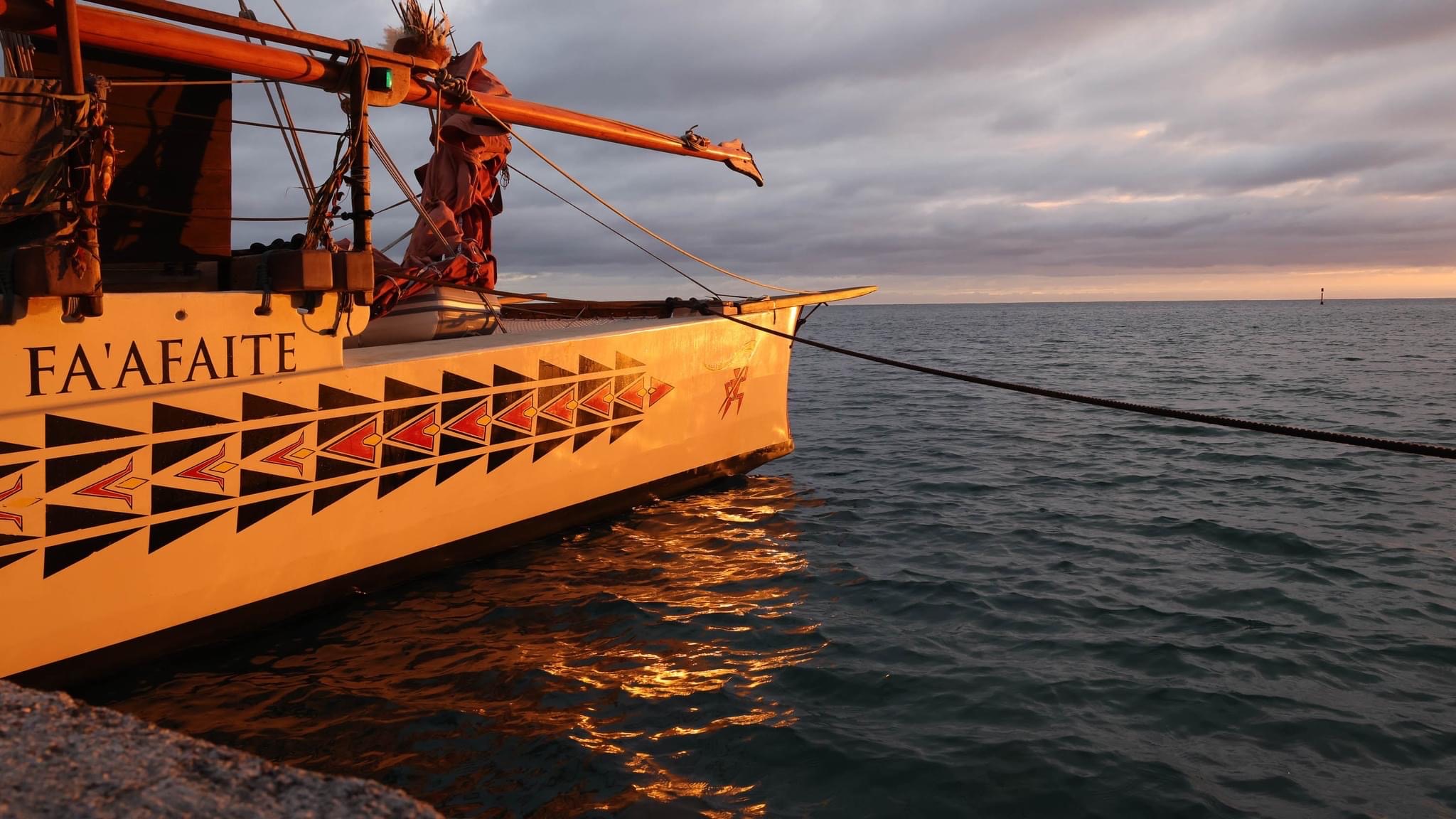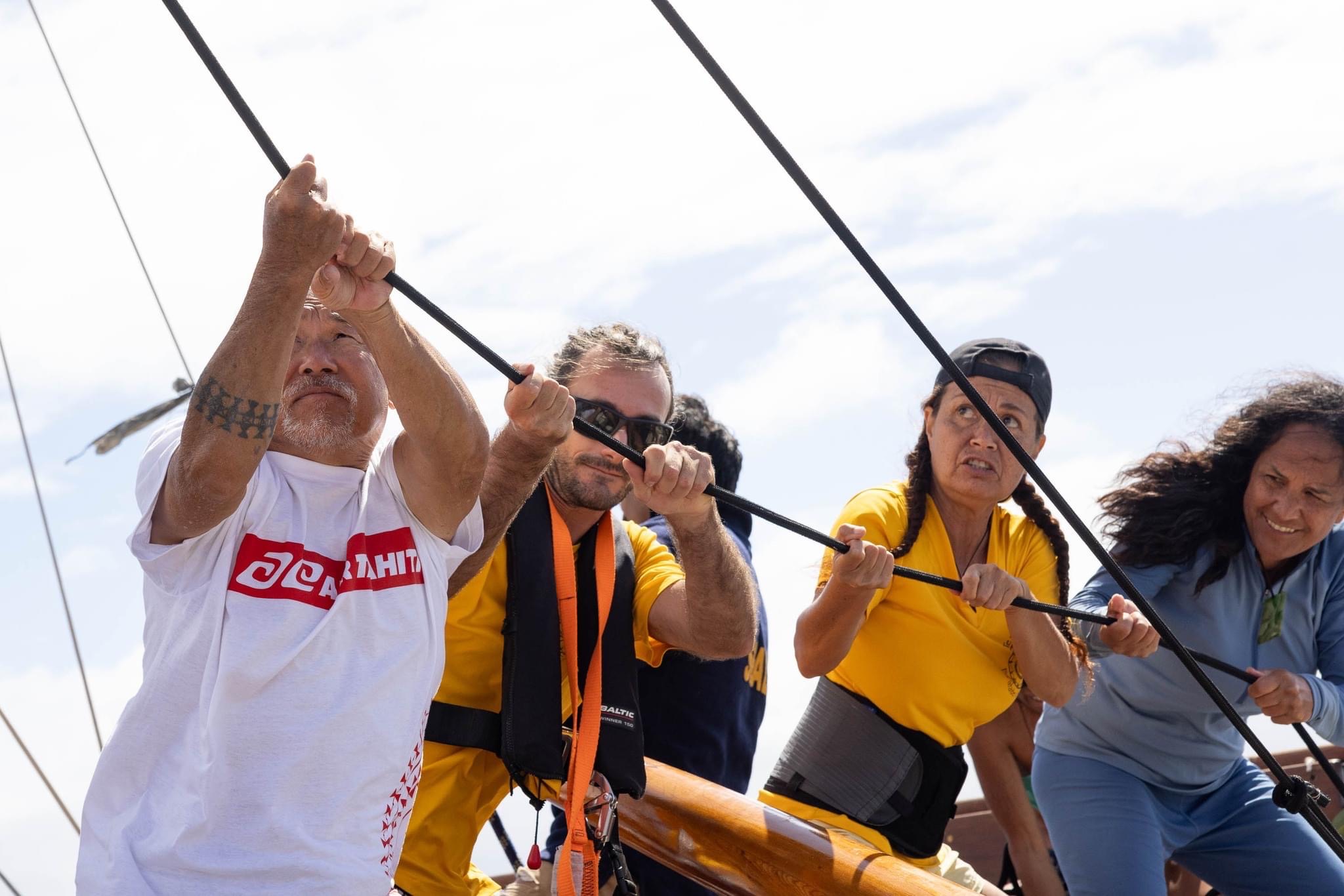 Sails are up and we are enjoying the views.  
Suddenly theres a small commotion on the Wa'a and we spot a fast fishing boat coming our way. It was one of those boats made specifically to catch mahi mahi.  They are called Marara/flying fish.   
The Marara was flying above the water and was next to us in no time.  Our new friend and shower hero, parked right next to us. Another family member extending a helping hand. It was time for a fresh water shower! First time I've mentioned in this blog so yeah, we were salty and crusty, but very happy.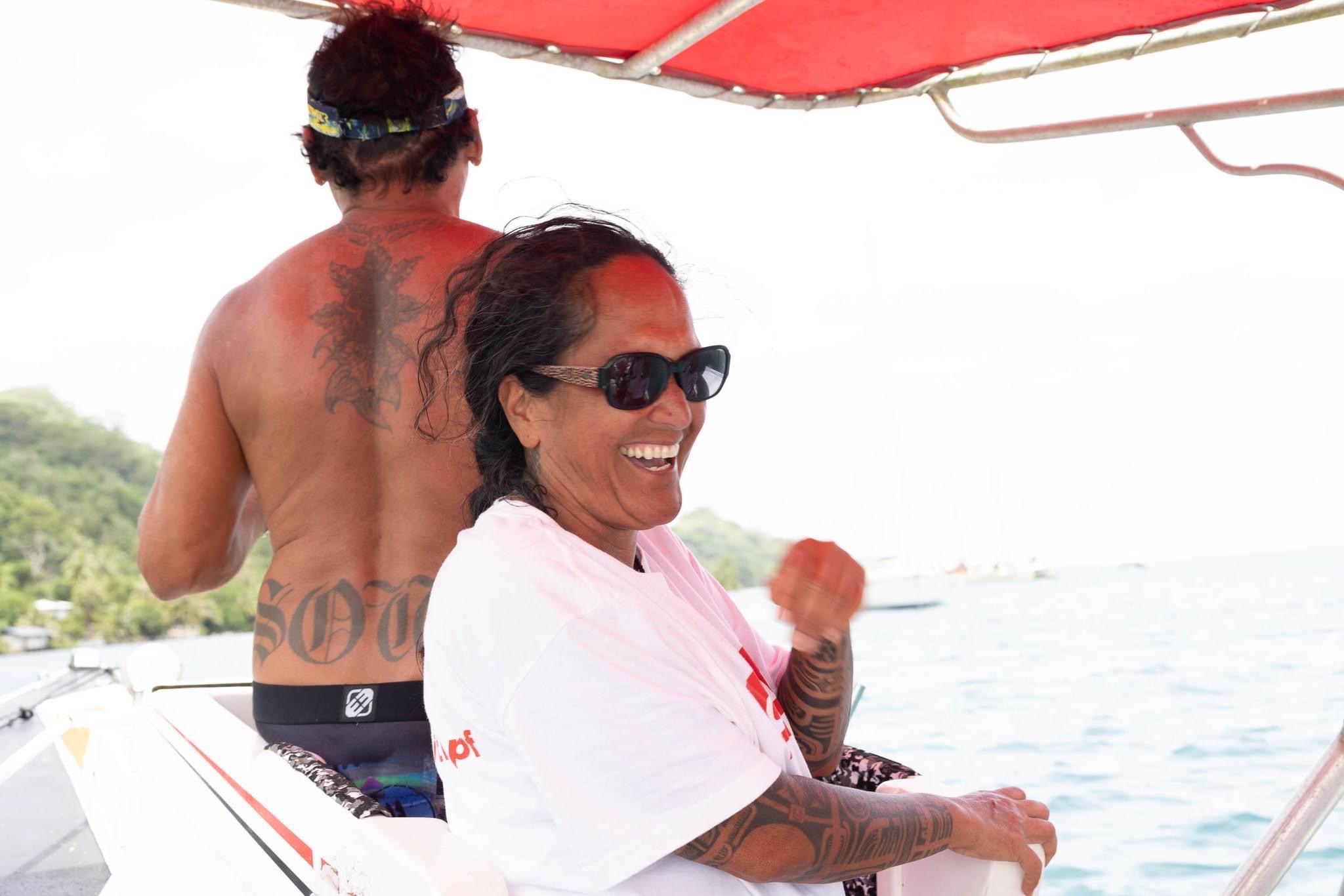 The weather was changing fast and the wind was strong. It was time to depart and cross the pass to get out of the protected lagoon waters and in to the open seas.  After we finished our showers we were taken back to the W'a and our voyage continued. Our new friend escorted us almost all the way out to the pass. 
The pass and this specific crossing is deserving of its own blog because it was intense so Stay Tuned!  
To finish this blog I'm going to share one of the stories about Hiro the nepheline. The story was told to us in Bora Bora, however I believe is proper for this blog because it inspired the name for this blog and you'll know why soon. 
Hiro was playing a game with his son. The game consisted in throwing rocks up in the air and then catching them with the hands.  Hiro tossed his rocks high up in the air and while he wasn't looking down his son stole the rocks left on the ground, the stones that belong to his father therefore cheating in the game. 
Hiro confronted the child and the child denied his wrongful actions. 
Hiro got so angry he tossed his kid all the way to the next island. 
After realizing what he had just done he regretted it and got even more angry, this time he was angry at himself. He was so angry he punched the large rock mount behind him. Today you can still see the mark left by his right fist, imprinted on a large rock formation in Bora Bora. 
I will share that picture on the Bora Bora blog. 
Aloha
Mahalo Selket Kauffman for all the amazing pictures!
We love you very much.