Come and explore the virgin jungles and exotic beaches of Escudo de Veraguas and Kusapin on board a 70 foot Polynesian style sailing canoe.

This hand made vessel is a replica of a Polynesian voyaging canoe. She has crossed the Atlantic four times and she is now in Panama awaiting to cross to Pacific on her way to Easter Island.
The large hulls sleep 12 people comfortably. We are only taking a maximum of 6 guest. All meals and transportation is included.
This is an 8 days expedition starting February 27th to March 6th 2017.
Cost is 2,000 USD ( trip does not include air fair )
On this expedition you will…
Learn basic sailing skills and participate in crew duties.
Learn basic indigenous survival skills on an island.
Visit exotic beaches, jungles, mangroves islands, lagoons and inlets
Explore the extensive Barrier Reef
Learn about flora and fauna of the Nobe Bugle Comarca.
Visit indigenous Nobe Bugle communities to learn about their culture and traditions during the voyage.
Meet the endemic pygmy sloths of Escudo de Veraguas.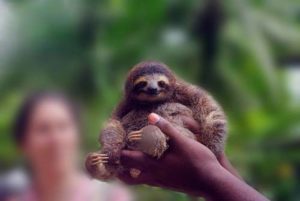 Itinerary
Day one.
10:00 am Departure from Isla Colon, Sail to Zapatilla.
12:00 PM Lunch
3:30 PM Snorkel
6:00 PM Dinner
7:00 PM Story time by the fire. Story of the turtle.
This is one of the first Nobe Bugle stories passed though generations. The story itself takes about seven hours to be told so we will share it throughout the trip divided in seven parts.
Day two
6:15 AM Sunrise yoga ( optional )
7:30 AMBreakfast
8:00 AM Snorkel or beach time
10:00 AM Departure to Kusapin
12:00 PM Lunch, Picnic on the beach at Kusapin
1:00 PM Free beach time, survival skills lesson
4:00 PM Return to vessel
6:00 PM Welcome Ceremony Party by the tribe
9: 00 PM shuttle to the canoe
Day three
6:00 AM Sunrise yoga
7:30 AM Breakfast
8:30 AM Hike to Community
9:30 AM Tour around the island to visit the community.
10:30 AM Snorkel
12:30 PM Lunch
1:30 Beach time, more snorkel
3:30 Hike to boat.
6:30 Dinner. Story time with fire on board
Weather permuting the boat will be there. If the boat cant make it we will camp and apply our survival skills.
Day Four
6:00 AM Sunrise yoga
7:30 AM Breakfast
8:30 AM Departure from Kusapin to Escudo de Veraguas
12:00 PM Lunch
4:00 PM Estimated arrival
6:30 PM Dinner
Day Five
6:00 AM Migratory bird watch
7:30 AM Breakfast
8:30 to 9:30 AM Visit the sloths
12:00 PM Lunch
1:00 PM Guided paddle through the lagoon (weather permitting )
5:00 PM Return to boat/camp
6:00 PM Dinner
Day Six
6:00 AM Sunrise Yoga
7:30 AM Breakfast
8:00 AM Snorkel
9:00 AM Arrival on vessel
12:00 PM Lunch
1:00 PM Jungle Hike
6:00 PM Dinner
Day Seven
12:00 AM Departure from Escudo to Cayo de Agua and Sloth Island
6:00 AM Sunrise Yoga
7:00 AM Breakfast
8:00 AM Snorkel Cayo
12:00 PM Lunch
5:00 PM Visit to Sloths
6:00 PM Dinner
Day Eight
6:00 AM Sunrise yoga
7:00 AM Breakfast
8:00 AM Snorkel Mangrove
12:00 PM Lunch, departure to Isla Colon
2:30 PM Snorkel with nurse sharks or in the mangroves of Bastimento leeward Island
6:00 PM Arrival
For more details please write us at oceandefenderadventures@gmail.com
Mahalo!