"The ocean needs as many ambassadors as possible, especially when they have worked hard to promote the conservation of all of its species…" This was our answer to a comment referring to Cristina Zenato. In November we posted a picture of Cristina in her chain suit and called her our "First Lady" of the sharks, as we always have. This post received many comments, some supportive and others that merit further discussion
We want to acknowledge that indeed, Australian Valerie taylor was the first woman to ever wear a chain suit to interact with sharks. How it happened was that her husband Ron Taylor, was a film maker and wanted to film sharks close up to share unseen images with the world. Ron invented and ordered a custom made chain suit as the means to accomplish this never before seen filming. However,when the suit arrived it was too small for him to wear so his wife Valerie wore it instead! Lucky Valery!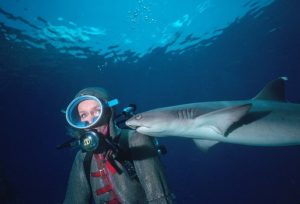 She tested the suit successfully and her swims with the sharks created great awareness about the world of sharks. Ron and Valerie shared images which portrayed sharks in a way the world had never seen before, and this helped our sharks tremendously. This all happened in the 60's, and for this reason, many new ocean lovers do not know about the incredible achievements of this unique couple. Today, Valerie is 81 and Ron unfortunately passed in 2012.
A name that is familiar and loved by us and many other supporters who are new to the world of "ocean conservation" is Cristina Zenato.
We have been sharing amazing images of Cristina and the sharks she calls her babies since we started our page in 2009. When we learned about her work we were fascinated with tonic immobility and the fact that she can help wounded sharks by taking hooks off them. She also helps the sharks through shark awareness and by bringing humans closer to them in her dives.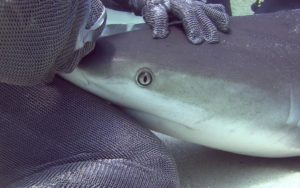 She has been spreading awareness about the plight of the sharks for decades now. We admire her and her incredible work. We are proud of all of her achievements and this takes nothing away from the incredible work and contributions that Valerie has given to the world.
They are both exceptional women, sages of different eras, both sharing their aloha for sharks and the ocean. Their work is invaluable.
We truly believe that the torch must be passed on through generations so that the love for our sharks and the ocean can continue to grow through time. Our oceans need as many ambassadors and stewards as possible. Our collective future depends on it. We all have the ability everyday to contribute to the wellness of the ocean as individuals. These courageous actions matter greatly for the health of the oceans and are what we feel compelled to highlight in our work.
Aloha